Cape York traditional owners take Fire Workshop to Southern Australia for the first time
The National Indigenous Fire Workshop opens on the New South Wales south coast this week – the first time it's been held outside Cape York Peninsula.
And Cape York traditional owners will be there – making the long journey from their home country to Bundanon, near Nowra.
Indigenous fire practitioners from all over Australia will share knowledge about "cultural burning" – a customary method of caring for country being revived in recent years.
That return began on the Cape in 1991, when two Kuku Thaypan elders started a project to preserve Indigenous knowledge and culture.
"Doctor George and Doctor Musgrave and me, we began recording the traditional knowledge," said Indigenous fire practitioner Victor Steffensen, who worked with them on the project. 
"It was through that process that the Elders recognised they needed to improve the health of their country because there were plants missing, and the country wasn't looking healthy."
"They wanted to apply the fire back on their country, and it all started from there," Mr Steffensen said.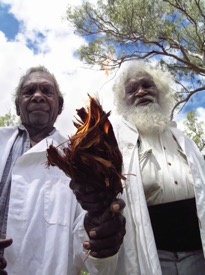 The first fire workshop was a small event at Rinyirru National Park in 2008, co-founded by Mr Steffensen – it's now an annual and national event of major cultural significance.
Descendants of Dr George and Dr Musgrave are among those making the journey from Cape York to Bundanon.
"I want to acknowledge the traditional owners who are hosting us down there and thank god for two wise men to make it happen," Dale Musgrave said before heading off to Cairns for the flight south.
Mr Musgrave and the Cape York group will be hosted by local Traditional Owners and Indigenous fire practitioners who are deeply moved they were chosen.
"We're so proud," says Noel Webster, who started Mudjingaalbaraga Firesticks Team in the Shoalhaven a year ago.
The group is part of the Firesticks Alliance, a national network of Indigenous fire practitioners.
Mr Webster says the Workshop is a wonderful opportunity to share knowledge and experiences with Indigenous fire practitioners from all over the country, and to encourage awareness of how cultural burning benefits all Australians.
"The whole community is going to benefit, not just Aboriginal people," Mr Webster said.
"We can reduce the risk of wildfire. A good fire has a lot of benefits to plants, animals and the landscape. It's a holistic goodness."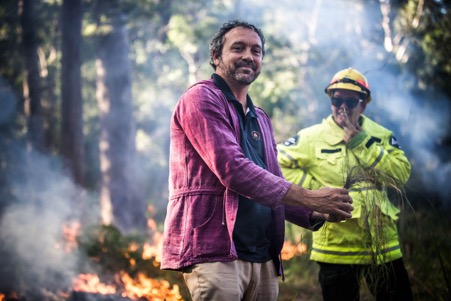 The National Indigenous Fire Workshop Mr Steffensen co-founded in 2008 has come a long way in 10 years.
"The very first one was just 30 Indigenous people in the bush and some old fellas," Mr Steffensen said.
"This time we'll have 300 people, and a few hundred more when we open it up for the public on the last day." 
"I'm blown away at how it just keeps getting bigger and better, more important to communities all over Australia." 
Mr Steffensen said cultural burning is increasingly being recognised by governments, land and fire management agencies, and environmentalists.
"Over time there's been a huge shift right around the nation, people starting to listen to Indigenous knowledge and undertake Aboriginal burning again."
"It's extended out to all walks of life, pastoralists, local landholders, national parks, rural fire services, researchers and environmentalists," he said.
Mr Steffensen will be at this year's Workshop, as will another key figure in the cultural burning revival, Importance of Campfires researcher Peta-Marie Standley.
Ms Standley has worked with the Elders and their descendants since 2004, documenting fire knowledge and researching ways to solve contemporary fire management issues.
She will deliver a masterclass on indicators, monitoring techniques and collaboration with Indigenous people in research.
"Workshops like this provide an opportunity to learn how to use fire properly and safely, and learn what to do when you put it into the bush," Ms Standley said.
"Traditional fire regimes will help return the health of the landscape, for example, it's a way to manage the weeds without using chemicals all of the time."
"If country is healthy we're all going to be healthy and our children will be healthy," she said.
"It's like a movement of people now, like a fire. It spreads. And it is spreading more and more."
The National Indigenous Fire Workshop runs from 13-15 July 2018, at Bundanon – not far from Nowra. The Cultural Fire Day is open to the public on Sunday July 15 – register at www.capeyorkfire.com.au
The 2018 National Indigenous Fire Workshop is a partnership between Mudjingaalbaraga Firesticks Team, Mulong Pty Ltd, Cape York Natural Resource Management, The Importance of Campfires, Firesticks Alliance Indigenous Corporation and Bundanon Trust.  
The Workshop is sponsored by the NSW Government's Bushfire Risk Management Research Hub, Saving our Species Program, South East Local Land Services and NSW Rural Fire Service; Federation of Victorian Traditional Owner Corporations; and NSW Rural Fire Service Association.
Media contact: Richard Dinnen 0400423030  media@capeyorkfire.com.au
Online
www.capeyorkfire.com.au www.firesticks.org.au www.mulong.com.au
Our Sponsors

 Our partners