Darryl Hill Erosion Control Workshops
19 Jun 2019 - 21 Jun 2019
Artemis Station, Piccaninny Plains, and Old Maitland.
Learn how to maintain and repair station tracks, fencelines, firebreaks, washouts and gullies.
Darryl Hill is highly recognised throughout Australia for his practical knowledge and experience using graders and other earthmoving machinery for gully remediation and erosion control works. 
For more than 40 years he has studied soil erosion from a variety of viewpoints, as a ringer, head stockman, property owner, manager and as a landcare officer.
Darryl travels widely running grader workshops across Australia's rangelands and imparts practical knowledge for station managers, rural communities and government agencies. 
RSVP by 7 June for catering purposes, plus any enquiries, to:
* Andrew Hartwig, Regional Agriculture Landcare Facilitator
  0418 216 300  ahartwig@capeyorknrm.com.au
* Abbey Ernst, Sustainable Industries Officer                  * Erich Brown, Land and Water Officer
  0428 727 955  abbey.ernst@capeyorknrm.com.au         0424 711 378  erich.brown@capeyorknrm.com.au
This project is funded through the Australian Government's National Landcare Program, with support from the Queensland Government.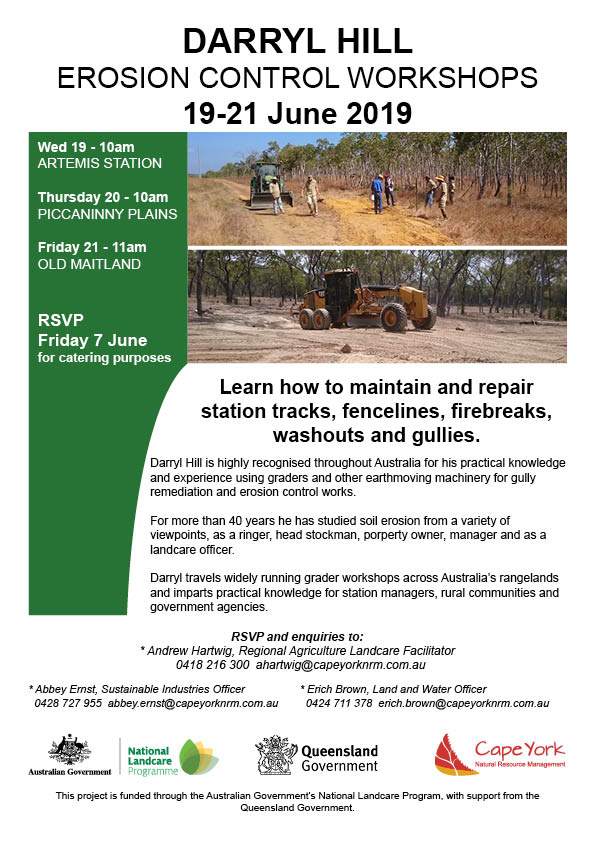 Wed 19 June - 10am at Artemis Station
Thu 20 June - 10am at Piccaninny Plains
Fri 21 June - 11am Old Maitland
Coming soon
Soon you will be able to view photos, videos and interactive media relating to projects and events. Check back soon for more information.